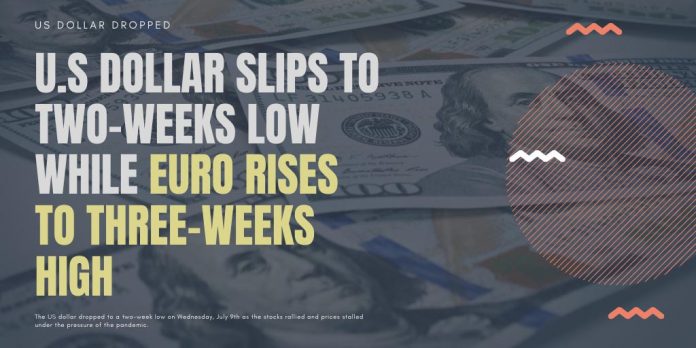 The US dollar slips to a two-week low on Wednesday, July 9th as the stocks rallied and prices stalled under the pressure of the pandemic. Meanwhile, the euro rose to three-week highs against the dollar while other stocks including Australian, Canadian and New Zealand dollars gained at price. The NASDAQ index gained a percentage of 0.8% on the day and reversed Tuesday's loss. The dollar is seen as a haven for investors to land their cash as the resurgence of the pandemic surfaces to threaten the global economic recovery.
"Investors are growing more confident that this stock market rally is not going to end any time soon," said Edward Moya, senior market analyst, at OANDA in New York. "And that's pretty much based on expectations that you're going to continue to see a strong global stimulus-response over the coming weeks and months."
With that being said, CDC aka Centers for Disease Control and Prevention on Wednesday has reported almost 2,982,900 cases of newly infected corona patients, reportedly greater than the previous count. The number of deaths has risen by 932 to 131,065. The dollar dropped to 96.448 in early afternoon trading. The decline in the dollar resulted in setting off the "Death-Cross".
The euro rose 0.6% as opposed to the dollar. The stock currencies which tend to thrive in times of increased risk appetite gained against the dollar. The Australian dollar rose to 0.5% against the greenback to USD 0.6977. New Zealand dollar grew 0.4% to USD 0.6572 and the Candian dollar rising against the US dollar at a percentage of 0.7 to C$1.3514 per U.S dollar.