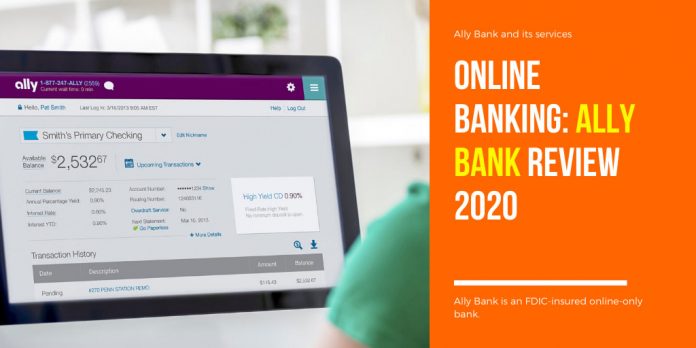 Ally Bank started as GMAC, General Motors' finance division in 1919. Later, in 2009, the company rebranded itself as Ally Bank. The bank has been awarded as best bank and best online bank from organizations like Money Magazine and Kiplinger's. Ally Bank is an online bank that offers a savings account, home and auto loans, multiple IRAs, investment accounts etc. You can also open Money Market account or invest in CDs with High Yield CD, Raise Your Rate CD and No Penalty CD options.
The interest checking account offers low-interest rates compared to other banks for instance, 0.10% on minimum daily balances below and 0.50% on minimum daily balance above $15,000. Ally Bank checking account still offers a higher APY than other contemporaries. The account includes no minimum deposit and monthly maintenance fees although they charge overdraft fees.
For savings accounts, Ally Bank is one of the best options in the market. If you are looking to open an online savings account, consider Ally Bank as the account is currently offering a 1.10% APY that compounds daily. Savings accounts for this bank have no typical monthly maintenance fee or minimum balance requirements but does have excessive transaction fees and outgoing domestic outgoing wires.
With Ally, you can apply for a home loan in a short time. You can choose between a fixed-rate and adjustable-rate loan. Ally will even pay $500 toward your closing costs if you have an Ally Bank account. If you are keen on investing, Ally offers plenty of options including stocks, EFTs, commission-free EFTs, bonds, mutual funds, etc. You can opt for self-directed trading if you are a beginner.
With mobile banking, you can do a lot than just checking your account balance. Ally Bank offers an intuitive website and mobile app for every device. Using the app you can now transfer funds, manage one-time and recurring transfers, deposit checks via Ally eCheck deposit, pay bills for apple and android users, etc.