Any issue related to money transfer is sensitive. It needs both security and reliability. However, you should not have any issues when the transfer service comes with the trust of 3.21 million people worldwide.
Instarem money transfer is one of the leading international money transfer services that offer Zero-Margin FX rates. The exchange rate is directly sourced from international trading platforms. 
Best Features of Instarem 
Age does not matter. Instarem is one of the best examples of this. This online money transfer company was founded in 2014. Nevertheless, within these five years, this Singapore based company becomes one of the best ways to transfer money overseas. 
Zero-Margin FX Rates
Most of the money transfer services margin their FX money transfer rate. In this way, they deduct an amount from your transfer without letting you know.
Instarem is offering you both transparency and the best exchange rate money transfer. There is no margin on the FX rate in instarem. It will source the exchange rate directly from Reuters. 
On the website, you can see all the fees and amount the receiver will receive before the instant transfer. You will always get a little extra from instarem in comparison with WorldRemit or TransferWise. 
Loyalty Points 
The concept of instapoint works based on transfer, earn and redeem processes. Make a transfer to earn instapoint and redeem those points to get loyalty benefits.
Additionally, you can earn instapoint by just joining. As a welcome bonus, your account will receive 75 points.
The referral is another way of earning points. You can boost up your instapoint account by 400 each time a referred friend makes a transfer. How cool is that?
You can redeem from 100 to 400 points to get discounts and gifts. Keep in mind that the points are only valid for six months.
You can neither encash nor transfer the instapoint. 
34 Countries and 9 Currencies
You can send money to 34 countries around the world using instarem. More than 3 million people in these countries can send and receive money.
The multi-currency platform offers transaction in 9 currencies. Thus, you can get around 300 combinations of currencies to make your transfer.
A network of more than 8000 banks in those 34 countries will ensure the trade. Moreover, you will get optimum security and encryption for each transfer.  
Nominal Transfer Fee
There is a myth of free transactions among instant money transfer services. However, they will collect several hidden charges throughout the transfer process.
On the contrary, Instarem charges a nominal money transfer fee. The fee ranges from 0.25 to 1% of the entire transaction.
The amount of the fees depends on receiving countries and the transfer channels. If you want to know the exact number, make sure you check with the online calculator. 
A network of 8000+ Banks in 55 Countries 
With 8000+ Banks as partners, instarem is one of the best ways to transfer money internationally. These partner banks are spread among 55 countries.
You can pay anyone within your network through a multi-currency payment system. Now you can move money from one currency to another exchanging through a third one.
The receivers will not only get their payment in local currency but also in their desired banks. Moreover, you can split payments and send them to multiple recipients at a time. 
A platform for diverse businesses  
The world is getting diverse in every aspect. The business is not different from it. A transition from brick and mortar to online-based business is taking place everywhere. Thus, financial transactions also become electrical.
You can use the instarem to pay your associates, freelancers, and partners. No matter which part of the world they live, they will get their part of the payment.

Small and Medium-sized Enterprises (SMEs) need a secure but swift method of global money transfer. Instarem offers a reliable way to pay vendors, suppliers, and service providers worldwide. 
User-friendly Web and Apps  
The instarem web is simple and self-explanatory. There is no chance of any confusion after you decide to use this send money online service. Mobile of Desktop, the web is crisp and clear!
The mobile apps of this company support both iOS and Android platforms. With simple options and transparent processes, users ranked Instarem higher for one of the best money transfer app.
You will have a live chat option on both apps and the web. Thus, any transfer issues with individuals and businesses will be resolved within minutes.
The customer care service is active on both holidays and business days. 
How to open an account with Instarem?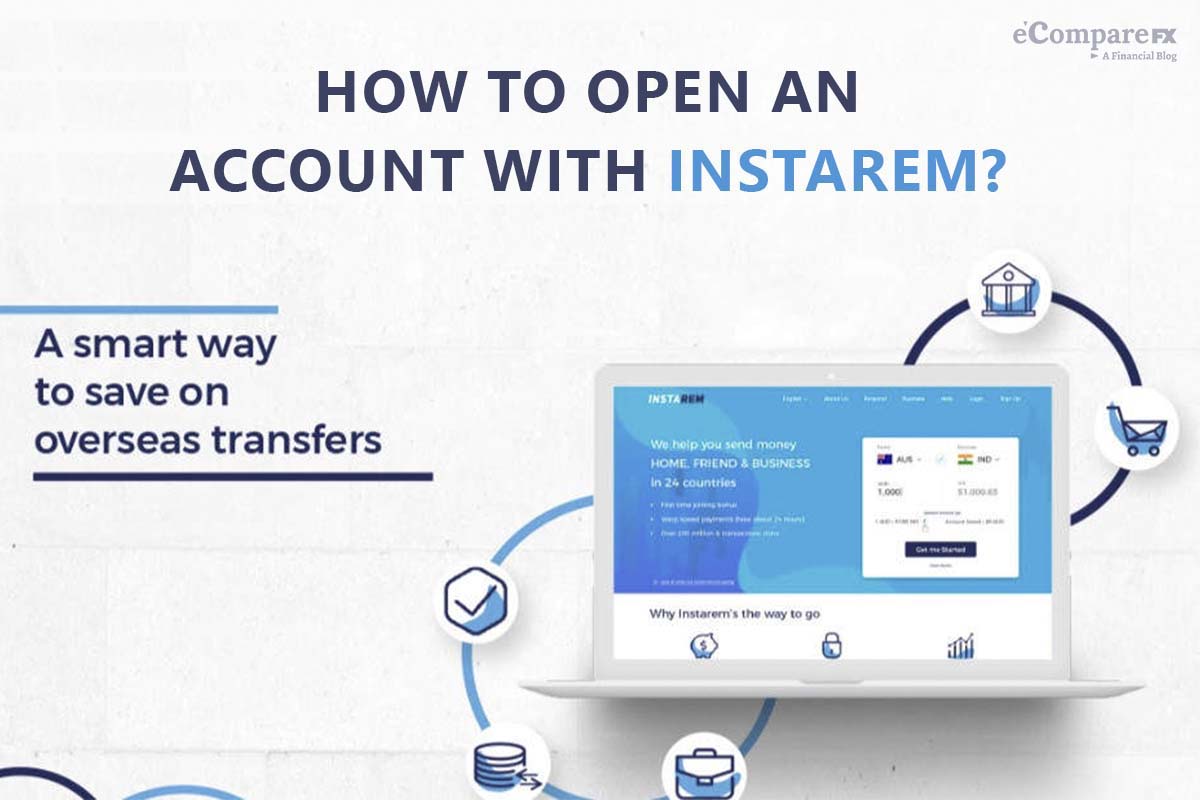 Opening an account with instarem is fast and easy. Keep some information and documents handy, and you will end up with a great partnership.
You can open both individual and business accounts with instarem. Individual accounts are for personal uses, whereas the business account is for commercial transactions.
Individual Account 
You will see the sign-up page for an individual account on the registration page. Use a regular email address and a safe password. You are good to go.
Make sure you follow the guidelines to create a strong password. Otherwise, you may face some password breach. Better safe than never.
Enter your full name, date of birth, address, mobile phone number, and source of income in the secondary form. Shortly after submission, you will receive a code on the mobile.
Insert the code in the next from, and you have an account with instarem. However, one step is left. You have to scan and upload your id for verification purposes. 
Business Account 
Like an individual account, you need an email address, business name, registration country name, and a mobile phone number. All of these will go to the first form.
The password must be robust and secure. Strictly follow the password guidelines to make it full proof. A strong password should have at least eight characters.
In the second form, put your income source, address, and employment status. You will receive a verification code to start the business account.
You will be asked to upload id to verify the account and your identity. After the verification is done, you can use the business account.
Ways of money transfer 
Bank Transfer
This is the most common way to transfer funds. You can use your bank account to fund the instarem account through Electronic Fund Transfer (EFT). Your local currency will move to your instarem account.
The multi-currency system exchanges the local currency into the receiver's local currency through a third currency. In this way, you and the receiver do not have to worry about currency exchange.
The instarem does not offer cash pick up; the receivers have to have a bank account. 
POLi
POLi is an online money transfer service like Google Wallet. You can use it to pay directly from your bank account through their server. You need an account with POLi and linked it with a bank.
You have to select the POLi option during fund transfer. There will be other options for Bank Transfer and Swift. However, this will be one of the most convenient ways with flexible terms and conditions.
The POLi will have a list of banks that support the instarem system. If you have an account with one of those banks, you can easily do the transfer. To complete the transfer, you have to
Select your bank

Insert the internet banking credentials

Click the Confirm Payments button
POLi is much safer than any conventional bank card. Additionally, it comes with the same security standard as a bank or other financial institutions.
This works only in Australia.
Wire Transfers or SWIFT
The SWIFT may not be the first choice for money transfer, but it is still one of the popular options. With a nominal wire transfer fees, you can safely transfer USD from your US bank account.
Every major bank in the US has a SWIFT code. You need to use that code to wire transfer dollars from your bank to instarem. When the fund is there, you can send it for both personal and professional use.
While inserting SWIFT code, be careful about your personal information and other credentials. If they do not match with the original bank account, SWIFT will not process the fund transfer.  
How long it takes to transfer money. 
The time depends on so many factors. However, if everything is ok, it takes a day to complete the transfer.
Every region has a cut-off time for the banks. If you transfer before that time, you have to wait for an extra day. Make sure you know the cut-off time of your bank.
The same goes for the receiver's bank. If the money arrives after the cut-off time, the receiver will have to wait another day. As there is no cash pick-up system, so you have to face this issue.
Any wrong information or identity issue will delay the processing. If you put any incorrect information, it will take extra time to verify and will eventually halt the transaction. Thus, you have to be extra vigilant during each transfer.
In case of any of the issues, call the dedicated customer care. Instarem is well-known for customer services and the highest satisfaction rankings in the market. 
Is the money safe with Instarem 
You can rely on instarem with 100% trust. This Singapore based company has an umbrella of global financial security. Your financial advisor will assure you the same.
The company is licensed in seven countries and the European Union (EU). Instarem has a commercial license in Australia, Singapore, Hong Kong, Malaysia, India, the US, and Canada. Moreover, it is also authorized in the EU.

Instarem is regulated by the Australian Securities and Investments Commission (ASIC) with  AFS license 464627. Moreover, the company is registered with the Hong Kong Customs Excise Department, the Monetary Authority of Singapore, and the Financial Transactions and Reports Analysis Centre of Canada.
Australia: NIUM PTY Limited (formerly known as InstaReM PTY Ltd) is regulated in Australia by ASIC (AFS License No. 464627)
Canada: NIUM Canada Corporation (formerly known as InstaReM Canada Corporation) (License No. M15669293) is regulated by the Financial Transactions and Reports Analysis Centre of Canada
Hong Kong: NIUM LIMITED (formerly known as InstaReM LIMITED) (License No. 16/01/01797) is regulated by the Hong Kong Customs and Excise Department
India: NIUM India Pvt. Ltd. (formerly known as InstaReM India Pvt. Ltd.) operates in association with DCB Bank and is regulated by the Reserve Bank of India, vide its approval letter Number. FED.CO.APRD/2200/18.07.003/2017-18​
Indonesia: PT InstaReM Mitra Indonesia (License No. 21/261/Jkt/1) is regulated by Bank Indonesia.​
Japan: InstaReM Japan Kabushiki Kaisha (registration no: Kanto Local Finance Bureau no. 00073) is a Funds Transfer Services Provider registered with the Prime Minister under the Payment Services Act (Act No. 59 of June 24, 2009).​
Lithuania: UAB NIUM EU (formerly know as UAB InstaReM EU) (License No. 14) is regulated by Lietuvos Bankas (Bank of Lithuania)​
Malaysia: NIUM SDN. BHD. (formerly known as InstaReM Malaysia Sdn. Bhd.) Registration No. 201701000367 (1214517-X) is regulated in Malaysia by Central Bank of Malaysia under MY License Serial Number 00222.​
Singapore: NIUM Pte. Ltd. (formerly known as InstaReM Pte. Limited) is regulated by the Monetary Authority of Singapore as a major payment institution under License No. PS20200276. ​
United States of America: NIUM, Inc. (formerly known as InstaReM USA Corporation), operates in the United States under a program sponsored by Community Federal Savings Bank, to which NIUM is a service provider (NMLS ID No. 1528562).​
The state-of-the-art verification process ensures the safety of your money and the security of the trade. Legal licensing is proof that no one will ask you about money laundering and other illicit acts.  
Pros

and

Cons

 
Like any other excellent services, users also have some issues with instarem. However, dedicated customer care services instantly take care of them. You can inform and get the quickest responses through live chat.
If you compare the pros and cons of instarem, the side of the pros will always be more substantial.
Pros
Nominal transfer fees
No margin on FX Rate
Supports small businesses
Offer benefits for loyal customers
Multi-currency payment system
Worldwide online banking network
Secure iOS and Android apps
Cons
No cash pick-up options for the receiver
Do not support credit card transfer
Instarem Review
Sign up and Transfer

Fees and Exchange Rate

Customer Service

Security

Ease of use

Device Synchronization
Summary
Instarem offers you the nominal transfer fees and no margin of FX trading. This online money transfer service is an excellent option for small business owners. Now they can pay all the business associates though it.
You can transfer in 9 currencies to 33 countries through this company. There 8000+ banks worldwide to support these transfers. No matter where the recipients live, they will get the money in local currency.
There are options between bank transfer, SWIFT, and POLi service to transfer funds. These features have separate pros and cons. However, each is great in different situations and locations.