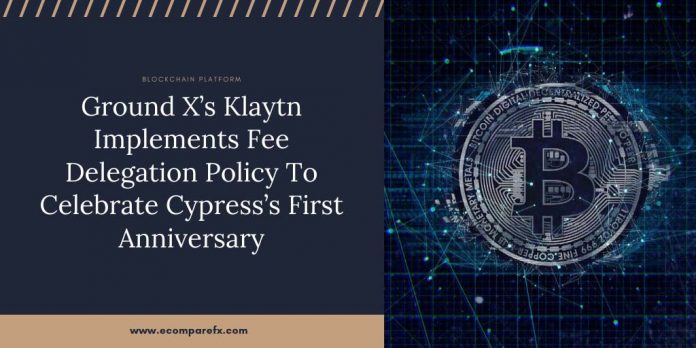 Klaytn, the blockchain platform for Kakao, Korea's largest messaging app, has announced that in the occasion of its first anniversary of Cypress' launch, it is starting a fee delegation policy for all the partners incorporated in Klaytn's blockchain app. Klaytn also stated that all the transaction fees will be covered by the company for a year on behalf of the partners.
Klaytn's goal is to provide spur mass adoption of blockchain and therefore the company is the is dedicated to offering high performance, fast response time and flexible scalability solutions that help small or larger enterprises.
Jason Han, the CEO of Ground X, spoke about the policy, "We decided to waive all transaction fees for Klaytn services to express our gratitude for the partners who have contributed to building the greater Klaytn ecosystem." He further appended, "We will extend this new policy for any interested startups or developers so that those who had difficulty using a public blockchain due to high costs would be able to consider using Klaytn blockchain."
In celebration of the first anniversary of Cypress, Klaytn is offering a fee delegation policy. The policy will help Klaytn pay all the transaction fees for developers and service providers operating blockchain application on Klaytn. Plus, any wallet service that supports Klaytn or uses Klaytn-based tokens can also benefit from the policy. The policy will be running for the next 1 year in which Klaytn's partners will get the highest priority. After considering the network and security issues, Klaytn also plans to extend the policy for developers and service providers who are interested.