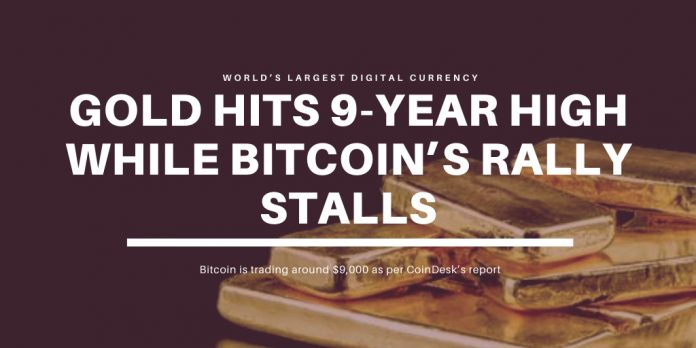 Macro analyst Holger Holger Zschaepitz speculated that gold is probably drawing attention due to negative yields offered by the US. The real yield has fallen from 0.3% to -0.73% over the past three and a half months. Meanwhile, gold has recovered from a loss of $1,450 to $1,1800.
Bitcoin also rallied from $3,867 to $10,400 in a span of two months and reaped its third reward halving on May 11. But since then the rally went down and the digital currency failed a couple of times to hold above $10,000.
However, many analysts are still being hopeful about the situation and the long-term opportunities of Bitcoin. COO and CFO of Bittrex Global (cryptocurrency exchange) has stated,
"In the BTC market, there is an increased institutional acceptance and awareness of the asset class which should bode well for long-term price appreciation. We've seen prominent organizations and figures such as [Paul Tudor Jones], JPMorgan, Fidelity, which are publicly involved in the market, yet this is just the tip of the iceberg."
"Bitcoin volatility has been lower than that of traditional assets throughout this crisis; however, we would argue there is nothing traditional about equity markets and the traditional economy today. In this new normal, bitcoin starts to look appealing as a new asset class that is not subject to the constraints and money printing of central banks," he also added.
The U.S Federal Reserve has expanded the budget by more than $3 trillion since the beginning of the COVID-19 in early March. The sudden and unique money printing and the concerns over inflation have surprisingly benefited gold. The digital currency market awaits to see if the bitcoin bounces back from the stall in future.