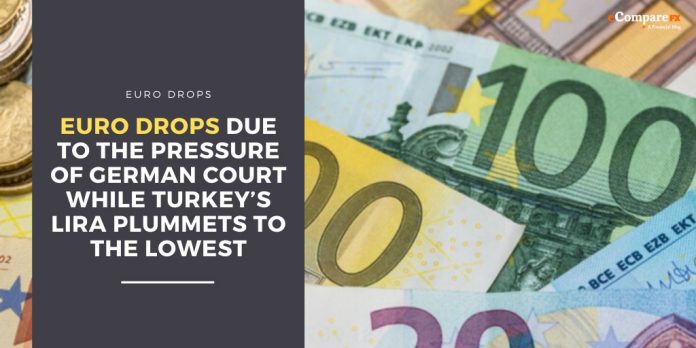 The euro dips to $1.07785 in almost two weeks. It has shed more than 1.5 percent this week and is set for a major drop in just over a month. This drastic dwindling is due to Germany's high court order where it gave the ECB three months to justify purchases under its bond-buying program. If the ECB is unable to provide a defense, they will be losing Bundesbank's participation in one of its main schemes that include stimulus.
"The court ruling has opened up a lot more uncertainty over the continuation of the ECB's asset purchase program, which has been a key pillar of support for the economy and financial markets," Lee Hardman, Currency Strategist of MUFG states.
Meanwhile, Lira decreased to its lowest of 7.25 per USD after traders rendered comments from a Federal Reserve policymaker as eliminating a Fed swap line to protect Ankara's reserves.
Sterlings showed a much more pleasant outcome after the Bank of England left interest rates steady. This boosted the sterling but the currency reduced its gain as the session elapsed.
Senior economist at Berenberg, Kallum Pickering said, "By sending a strong signal that it plans to ease monetary policy further soon while staying put for now the BoE has managed to stay on top of the risks without actually doing anything extra."
China, on the other hand, showed a much more progressive result. The export numbers lifted hopes in the markets that China can ricochet the losses much quickly and help global growth recover from the pandemic. The U.S. dollar was last up 0.45 percent at 106.57 yen and decreased on Wednesday to 105.985, its weakest since mid-March before rising to 3.5 percent despite the extensive drop of 15.7 percent.
While Norway's central bank cut its key interest rate to a record-low of zero from 0.25 percent, the Australian dollar might hike-up like China as experts speculate.