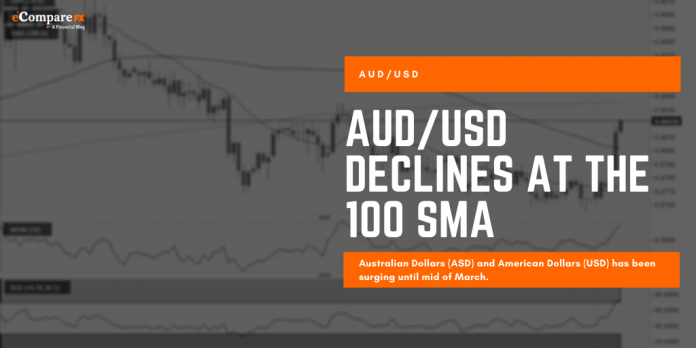 Australian Dollars (ASD) and American Dollars (USD) has been surging until mid of March. After the impact of the pandemic hit the market, things went downhill in early May. While USD survived the fall, the risk currencies went lower.
However, the surging of USD didn't last long. The US currency turned bearish, while other risk currencies thrived.  China, for instance, was successful in tackling its economic state. With the help of dexterous measures, the currency of the country turned bullish. Australia followed by. Both Australia and New Zealand saw a significant surge in their currencies. This happened because China imports a large part of raw materials from the respective countries, thus it helped in the increase of the countries' currencies.
Although the Aussie incurred all the losses up to 0.6570s, it all reversed back down in early May. The pair's reversal lower from the 100 SMA on April 30 ended up creating a higher low at 0.6373. The SMA is creating resistance and this can affect the market. It's been anticipated that buyers have nothing much to do, the sellers apparently can play a role in reversing the price back down but things need to wait before jumping into a conclusion just yet.